Gintama is going to have another season coming ('probably' lol)! What a great news for fans! Well, most of us actually believed that it will get another one partly because of how Silver Soul season ended. It's also amusing because in line with this is the fact that the manga also didn't end even if Sorachi Hideaki-sensei promised that it would be. Yet again. Not that it is bad because that just means more of the story and characters. At least there's more chances of polishing up the end of the series.
Anyhow, now, I'd love to talk about the series. I only ever got to talk about it when I talked about the first live action movie here. I'd love to talk about how and what I liked about the series in general. (Or I can specify, too, depends on how words would flow.) So, here it goes.
---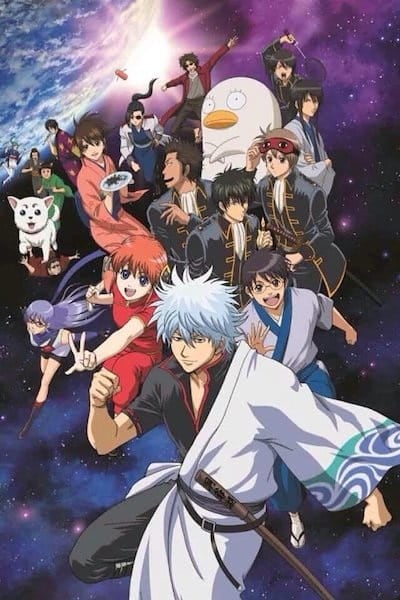 The Amanto, aliens from outer space, have invaded Earth and taken over feudal Japan. As a result, a prohibition on swords has been established, and the samurai of Japan are treated with disregard as a consequence.

However one man, Gintoki Sakata, still possesses the heart of the samurai, although from his love of sweets and work as a yorozuya, one might not expect it. Accompanying him in his jack-of-all-trades line of work are Shinpachi Shimura, a boy with glasses and a strong heart, Kagura with her umbrella and seemingly bottomless stomach, as well as Sadaharu, their oversized pet dog. Of course, these odd jobs are not always simple, as they frequently have run-ins with the police, ragtag rebels, and assassins, oftentimes leading to humorous but unfortunate consequences.

Who said life as an errand boy was easy?


(Source: MAL)
Gintama may have a lot of genre, but it is mainly known for its comedy and it's rightfully so because it delivers well in this aspect. There are a lot of parodies of anime, manga, TV personalities, and other media (mainly Japanese, of course) all around the series, so I believe this show is enjoyable to the full if one has knowledge of these. (Most, if not all.) There are also some random comedic scenarios or ideas as well. (A lot of trolling!) Ahh, there's a lot of poop (though some I found gross) and wiener jokes, too. Honestly, I think those can feel repetitive, though I know a lot of people enjoy them. It's not like they're in every episode, anyway. Oh, and there are a lot of meta scenes, fourth-wall breaking moments which I personally enjoyed a lot! The timing is usually well-done which is important for the comedy aspect of the series.
There are a lot of characters in the show and almost every one of them become the show's reason for laughs. The series may seem episodic, but there's a need to watch chronologically since the series takes time to introduce the other characters. Knowing the characters more aid in the humor, too. Actually, the first 57 episodes feel like the series' exposition since a huge chunk of the characters are introduced within those. Even after those, though, some new characters still appear which isn't really unpleasant.
The series has a brilliant dynamics of the characters. Of course, there are the favorite sets of the main trio, the Shinsengumi trio, and the Joui 4, but we also see some or all of them with other people or groups, too. It was such a delight to watch them interact even if at times it's unusual because it all just… works.
The characters each have their own character arc/episode and it's great that after that, we still see them play an important role on some other arcs. I'd like to point out that the female characters are strong characters, too! Emotionally, mentally, and/or physically! I love how we see them a lot as much as the other male characters. Another point is that even if there are some nudity (more on male characters), even if there are dirty jokes, no one is really sexualized in the series and I think that's amazing.
Anyhow, after the 57 episodes of introduction of the characters and the world Yorozuya Gin-chan is in, the 58th episode gives more depth to the series. And that was just the start of it. Admittedly, the few early arcs before it already have some drama (and they're good!), but the well-known Benizakura arc (which was adapted for the first anime movie as well as the first live action movie) is the first serious arc related to Gintoki, the main character. And for me, that's when the series gets even better; that's when the story really starts moving since the main foundation has been laid out already.
I encountered some people who actually dislike Gintama because for them, Gintama is comedy, but for me, Gintama is the best with all its elements. Along with humorous moments, there are also sweet moments. I have to say that my favorite parts and arcs are mostly the serious ones, though. The serious arcs present more of the characters' personalities and pasts after all. (The SA, FS, YIF, Courtesan of the Nation, Silver Soul, and Kabukichou Four Devas arcs amongst others!) They are also longer and tend to be packed with more action. But the humor still doesn't disappear completely and they're well-timed, too.
Despite its seemingly episodic nature, Gintama has an overarching serious plot that is gradually developed and uncovered during the serious arcs and is given attention fully during the Silver Soul arc/seasons.
I enjoyed the show's good portrayal of love. I guess this is somehow included in the dynamics of some characters. There are love for family, for friends, for special someone. And actually even for self. It's all just sweet to see.
In addition to all these, the series has good soundtrack and theme songs. There's a total of 21 OP and 30 ED songs for the whole series. I liked the OPs and EDs, but here are my favorites:
I looked for the official videos of the songs, but only few are available. The one with Hikari Shoumeiron is the Gumi version since it's the one availabe. (I much prefer the one with CHiCO, though.)
A lot of these are theme song/s for the arcs that I loved. I have to admit that SPYAIR's songs are there partly because I'm a biased fan. BUT the songs are seriously good, too! Ah, also, I've got to say that while I like Sayonara no Sora, it's actually not as much as the others on the list. It's on my favorite EDs, though, because I loved the animation sequence accompanying it.
Actually, I didn't skip watching the OPs and EDs a lot. The EDs are nice and fun to watch because there are some small differences on the sequences since the production chose to make small changes based on the content of the episodes. Well, not on all of them, but there are a lot and I find it a nice touch that needs to be appreciated because I think it's some extra work, but they still they did them anyway.
Lastly, this is personal to me, but this is my post anyway so it's already personal to begin with, so I have to say that because of the relationships of the characters, for someone who enjoys shipping characters when she can and wants to, I enjoyed this show a lot even if there's no romance between major characters. I think the spark is there for some pairings so I can't help myself. I won't mind if the ending won't show any canon couples, though, aside from one that's already established. (Or maybe not really. Please make OkiKagu and KatsuMatsu official, Sorachi-sensei!)
Like any other series, Gintama is not perfect. Since it is kinda episodic and a long-running series, there are certainly weaker episodes. I did not like some episodes/arcs as much as others. In general, though, the good outweighs the bad, so the series is still a much-recommended show especially for shounen fans fond of comedy mixed with drama and action.
---
I don't even know if I'm coherent with this post, but writing all these made me want to re-watch my favorite arcs. I am so looking forward to the next season! And of course, the last few chapters of the manga, too!
Anyhow, this is all. Thanks for listening to reading my MeiTalk! (Err… lame. Sorry.)