Yesterday, Kaze ga Tsuyoku Fuiteiru (a.k.a. Run With the Wind), or Kazetsuyo for short, ended and I AM SO NOT OVER IT YET! I have so much feels I can't help but write something about it.
---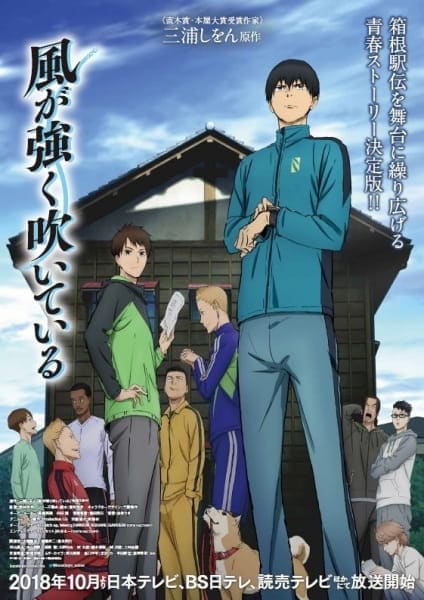 KazeTsuyo is an anime series which is part of Fall 2018 lineup and carried on till this Winter 2019, having 23 episodes. It is actually based on a novel by Miura Shion that was published September 22, 2006. Production I.G. (Shingeki no Kyojin, Psycho-Pass) is the studio that handled it.
I actually didn't start to watch it in Fall and I guess that's my only regret. I just started watching it on January 9 based on MAL record. Anyhow, it's such a beautiful series which got a gorgeous anime adaptation that will forever stay in my heart. There's a lot I'm thankful for that I've seen this show.
First, of course, is enjoyment.
There are various factors for this. The series is easily likeable for me as I love a lot of stories about sports — I love the general atmosphere of the genre. What with a lot of power-ups in anime, even some those sports series, I appreciate ones which are more grounded on reality. Kazetsuyo is certainly one of those. The start may be a bit slow for others, but I think it's just perfect. I mean, each of the characters' reactions to the situation shoved to them are realistic! I enjoyed watching each of their gradual growth. There is just so much feels, especially during those times when episodes ended in cliffhangers and I got to anxiously wait for the following week to know what happened.
The story wouldn't be so compelling if not for the characters. There's diversity so watching them struggle and overcome difficulties toward their shared goals is satisfying. Each of them and their interactions are precious, but I gotta say that my top favorite characters are Kakeru and Prince.
Aside from plot and the characters, the animation contributes to my enjoyment of the show, too. The angle shots, the colors, composition… they got to make the runs look exciting with clever use of those elements.
Music is also part of the enjoyment, too. I'm so grateful for Kazetsuyo because it led to my knowing Mukai Taichi.
When I first heard the few lines of ED1 as I watched the first episode, I was sure that I'm going to like him. In fact, I immediately searched for him right after that episode. Mukai Taichi sang both of the series' EDs, Reset and Michi. I love his voice and his music! I'm so happy his songs are available on iTunes!
I also liked the OPs (Catch Up, Latency by UNISON SQUARE GARDEN and Kaze Tsuyoku, Kimi Atsuku. by Q-MHz ft. SKY-HI), by the way.
On another note, Kazetsuyo also gave me this: more Hayashi Yuuki.
I love listening to music and that includes soundtracks of various series I watched. (In fact, I'm listening to the KazeTsuyo OST album while writing!) I'm so happy because this anime have Hayashi Yuuki as the composer for music. I discovered him because of Haikyuu!! and it's amusing thinking about it because two of Haikyuu!!'s OSTs — 憧れ (Yearning) and 試合開始!! (Let the Games Begin!!) — are used in the series, the first on ep14 while the other on ep18. It's really a sweet treat for me and I can only thank the staff behind the series who made it all possible!
Anyway, Hayashi Yuuki is also responsible for the music in Boku no Hero Academia, Ballroom e Youkoso, Precure, and Diabolik Lovers just to name some. So glad that his music is available in Apple Music and Spotify!
For the last thing this show gave me, it's the motivation to run.
I'm not an athlete, but I grew to like running. It started when my friend and I were desperate to finish all the PE units required so we could focus on the major classes the following semesters. We were supposed to enrol in a Walking for Fitness class, but the teacher refused to accept any more students (it's quite popular since it's just… brisk walking. I think.) so we ended up signing up for the Running class at the same time slot which had less students and a more accepting professor. Our finals was to run 10km (aside from finishing an accumulated 100km all throughout the sem) and that's the longest route I got to finish yet.
Anyway, since then, even after the semester ended, I liked scheduling runs with the same friend and with some other friends who just likes to exercise. I haven't gone out specifically to run for a few months now, though, but watching Kazetsuyo just rekindled the desire to run!
---
These are the four things I got from watching KazeTsuyo. I'm really satisfied with this series. There are some things I wish they could have shown us more of, but they don't bother me that much. (But I still hope that there will be an English release of the book.) The last few episodes are solid! I'm happy with how things wrapped up. This is definitely going on my list of favorite anime series!